YOUTH ORCHESTRA, CYCNY
86-30 188th Street, Jamaica Estates, NY 11423
E-mail address: youthorch8@aol.com and/or patsychen@aol.com
For Immediate Release
Contact: Patsy Chen
T.718-834-8904
E-mail: Patsychen@aol.com
Youth Orchestra, CYCNY 200
10

-1

1

Audition News Release

<![if !vml]>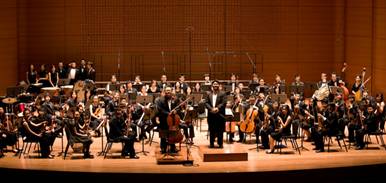 <![endif]>The Youth Orchestra, CYCNY, a Queens-based youth orchestra, is pleased to announce its 2010-11 audition for new members, age 11-18, who has been learning an orchestral instrument with a private teacher for at least 2-3 years, and who are interested in our bilingual repertories of Western and Eastern music. The audition date is on Saturday, September 18, from 12 noon-4pm at Middle School 158 (46-35 Oceania Street, Bayside, NY 11361).
For more information please contact: Artistic Director Patsy Chen at 718-834-8904. E-mail: patsychen@aol.com, or Executive Director Rosalind Chia at 718-454-7181 e-mail: chia.rosalind@gmail.com, For more information please visit the website of: www.youthorchestra.com.
The audition instruments will be: Flute, Oboe, Clarinet, Bassoon, Trumpet, Horn, Trombone, Tuba, Violin, Viola, Cello, Double Bass, Harp and Percussion. The audition requirements are:
<![if !supportLists]>1. <![endif]>One solo piece of the applicant's choice (No accompanist needed)
<![if !supportLists]>2. <![endif]>2. Two octaves scales
3. Sight-reading
Youth Orchestra, CYCNY had just successfully completed its 6th Asia Concert Tour to Yilan, Taipei, Kinmen of Taiwan, and Xiamen, SuZhou, Shanghai World Expo 2010 of China, from Jun 25-July 6.
The recent Annual Concert at the newly renovated Alice Tully Hall of Lincoln Center was on May 22, 2010, at this concert, Taiwan Center Chorus and Taiwanese American Association of New York Chorus were invited to perform with this orchestra under the conducting of Dr. Jeffrey Liang and Dr. Ping H. Chen. Both the Asia Tour and Lincoln Center Concert were attended and received.
Youth Orchestra, CYCNY was founded in 1996 and registered with New York State as a non-profit organization in 1997.
The uniqueness of this youth orchestra is the cosmopolitan repertories of Classical, Popular, Jazz, Film, Broadway, American, Latin and Asian music.
The orchestra meets for rehearsal on each Saturday from 1-4PM at Middle School 158 in Bayside, Queens from October to June.
Annually, the orchestra presents all members and faculty to perform in two full-length formal orchestra concerts. A Holiday Concert around mid-December at Ms. 158 in Bayside, Queens, which is open to the public with free admission, and it has been a tradition in Queens since 1998; a charity Holiday Concert to perform at Silvercrest Center for Nursing and Rehabilitation in Briarwood, Queens, the upcoming Annual Spring Concert at Alice Tully Hall of Lincoln Center will be on June 18, 2010. And a Father's Day Concert will take place at Silvercrest Center for Nursing and Rehabilitation on June 19. 2010.
The outstanding faculty members are graduates from US top conservatory and universities. They are Jeffrey Liang/Conductor, Stirng/Chijen Christopher Chung. Winnie Lai & Kenneth Chia/Wind, Jeffrey Liang & Lovell Chang/Brass, Chi-Ching Grace Lin/Percussion, Piano/Joyce Chen.
Some projects of Youth Orchestra, CYCNY are made possible with the funds from the NYC Department of Cultural Affairs, Queens Council on the Arts, New York State Council on the Arts, JPMorgan Chase, Cultural Center and Taipei Cultural Center of Taipei Economic and Cultural Office in New York.
Photo:
Youth Orchestra, CYCNY, Taiwan Center and Taiwanese American Association of New York Chorus in concert on May 22, 2010 at Alice Tully Hall (Sean Kuo, Photographer)