175 Willoughby St. Suite 2A. Brooklyn, NY  11201
T. 718-834-8904, 347-306-2511
www.youthorchestra.com e-mail: youthorch8@aol.com
A Holiday Tradition in Queens since 1998!
YOUTH ORCHESTRA, CYCNY will present its 17th Annual Christmas Concert, which is admission free and open to the public.
THE HOLIDAY Concert
on
Sunday, December 14th – 4 pm
at
Benjamin N. Cardozo High School
(5700 223rd St., Bayside, NY  11364-1936)
Free Admission, Open to the Public, No ticket required
And
Fundraising Event Concert for Poppenhusen Institute
114-4 14th Rd, College Point, NY 11356 (718- 358-0067)
Saturday, December 6, 4 pm
And
Christmas Concert at Silvercrest Center for Nursing and Rehabilitation,
Sunday, December 7h, 10:30am
(144-45 87th Avenue, Briarwood, NY 11435)
This concert is for residents and their families.
Music Director and Conductor Chijen Christopher Chung will lead more than 50 young and enthusiastic musicians to feast the concert stage with the Classical, Popular, Broadway, Movie, Asian and Christmas Music
<![if !vml]>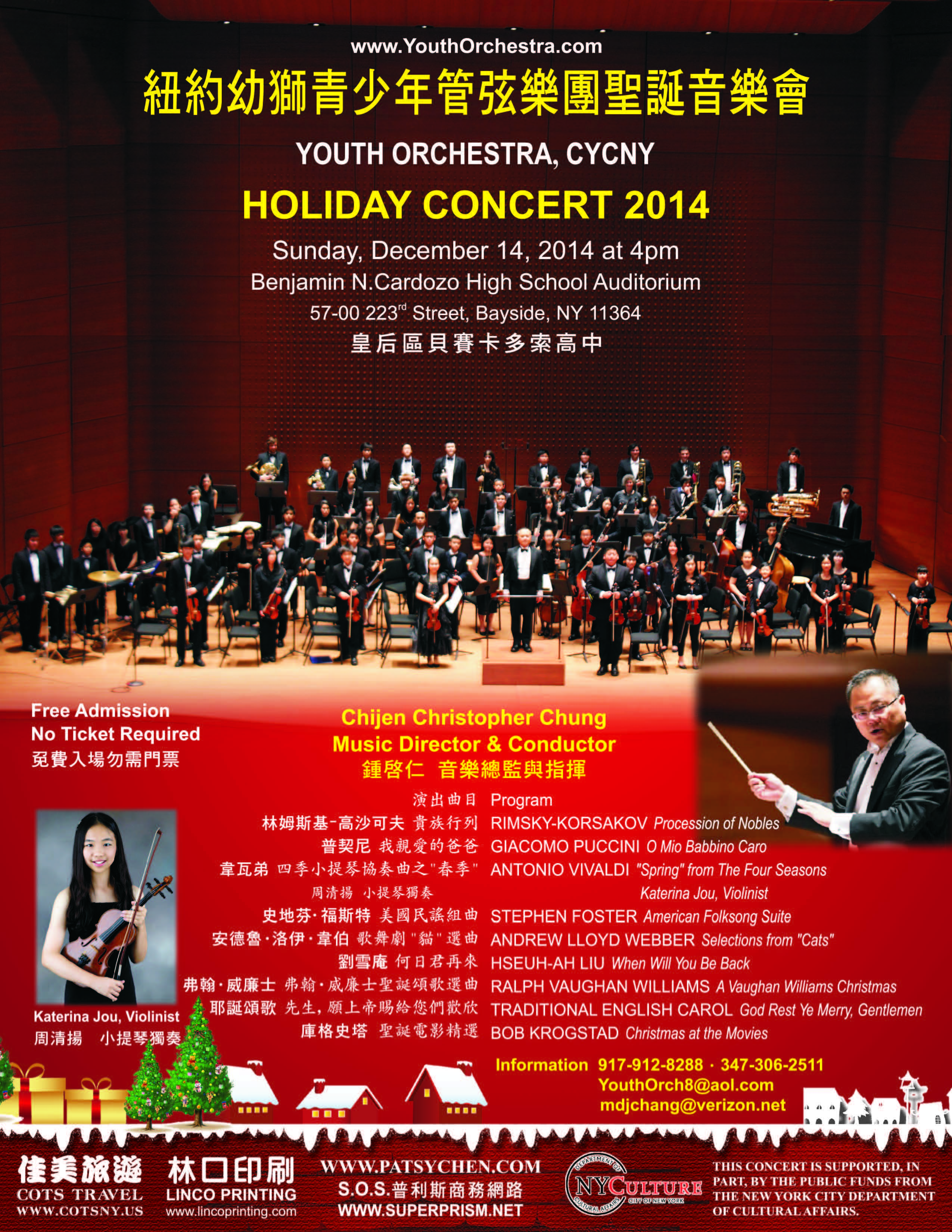 <![endif]>The following works:
RIMSKY-KORSAKOV Procession of Nobles

<![if !supportLineBreakNewLine]>
<![endif]>
GIACOMO PUCCINI   O Mio Babbino Caro

<![if !supportLineBreakNewLine]>
<![endif]>
ANTONIO VILALDI "Spring" from The Four Seasons
- Katerina Jou, Violinist
STEPHEN FOSTER American Folksong Suite          

<![if !supportLineBreakNewLine]>
<![endif]>
ANDREW LLOYD WEBBER  Selections from "Cats"

<![if !supportLineBreakNewLine]>
<![endif]>
HSEUH-AH LIU  When Will You Be Back

<![if !supportLineBreakNewLine]>
<![endif]>
RALPH VAUGHAN WILLIAMS  A Vaughan Williams Christmas

<![if !supportLineBreakNewLine]>
<![endif]>
TRADITIONAL ENGLISH CAROL  God Rest Ye Merry, Gentlemen

<![if !supportLineBreakNewLine]>
<![endif]>
BOB KROGSTAD Christmas at the Movies

<![if !supportLineBreakNewLine]>
<![endif]>

Information: Patsy Chen    917-912-8288 E-mail: patsychen@aol.com,
                     Jason Chang 347-306-2511,
E-mail : YouthOrch8@aol.com,  or visit :www.YouthOrchestra.com
The Youth Orchestra, CYCNY
<![if !vml]>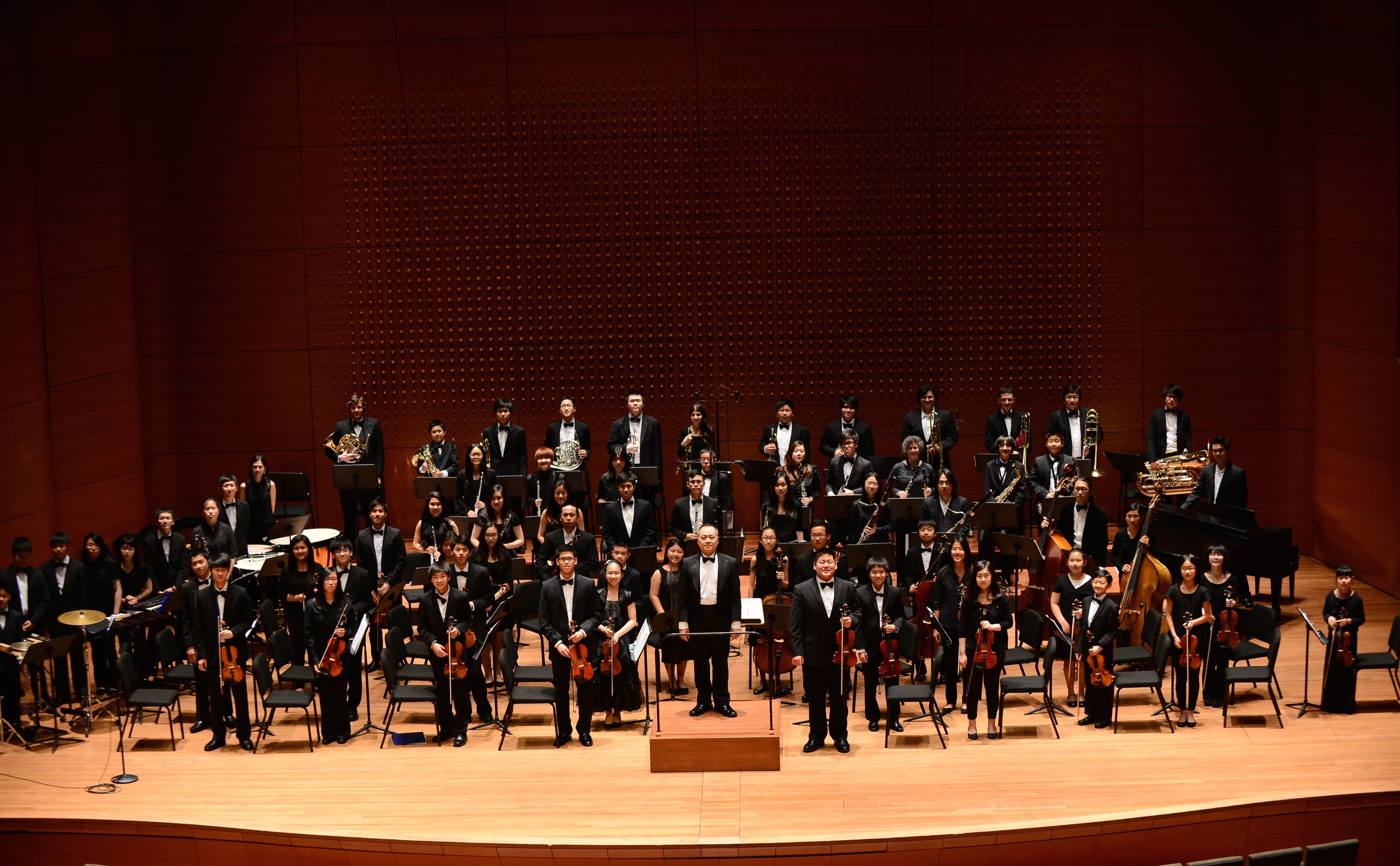 <![endif]>The Youth Orchestra is a Queens-based Youth Orchestra since 1996, and has been a 501 (c) (3) organization since 2002. 
Its mission is to provide orchestra training program and performing opportunities for young musical students age 10-18, with unique repertory including: Classical, Popular, Jazz, Broadway, Film and Asia Music, and will premiere and commission the works by American and Asian composers.  We also believe in global culture-experiences, therefore, we'd organized concert tours to Asia, Europe and East Coast in some summers.
New members are recruited through auditions in September, the weekly rehearsals take place at Middle School 158 in Bayside, New York from September to May. 
The orchestra presents two formal concerts annually. One free Holiday Concert for the community during holiday season in Queens; and an Annual Concert at Lincoln Center in spring. The orchestra also serves the Queens community by performing concerts at senior center, community center and nursing home in Queens.
During the 2014-15 Season, the orchestra will perform at, Poppenhusen Institute in College Point,  Silvercrest Center for Nursing and Rehabilitation in Briarwood, and Florence E. Smith Senior Center in Corona.
Chijen Christopher Chung, Conductor

<![if !vml]>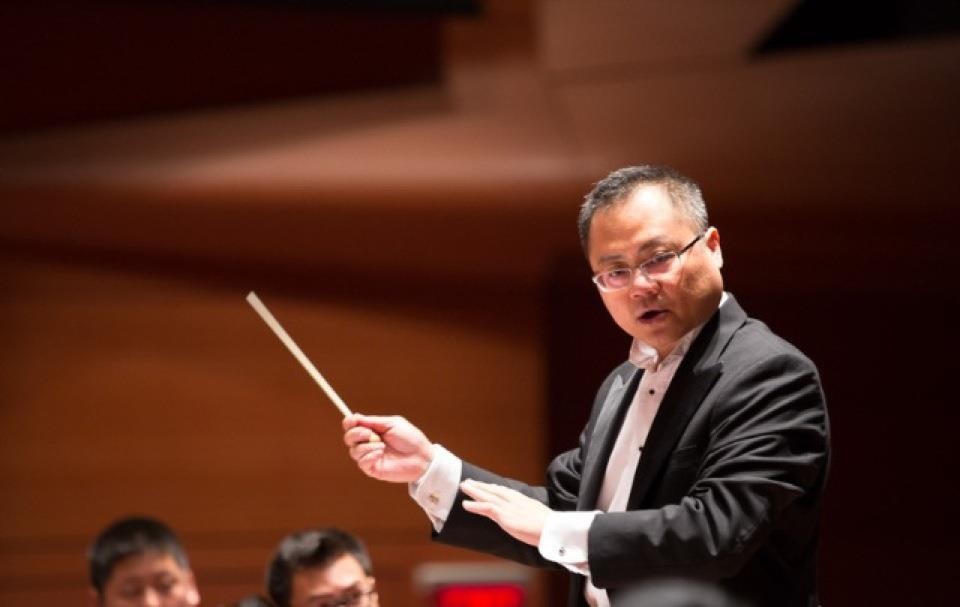 <![endif]>A native of Kaohsiung, Taiwan, Christopher Chung began his musical studies in piano, violin and cello at the ages of five and nine. Following a successful musical career in high school, he attended the National Taiwan Normal University where he majored in cello and was awarded the Certificate of Music Education.
Upon moving to the United States, Mr. Chung studied under the tutelage of master cellist Peter Wiley (of the famed Guarneri String Quartet), at the prestigious Conservatory of Music at Purchase College, SUNY, where he received both his Bachelors and Masters Degree in Cello Performance.

In addition to his academic credentials, Mr. Chung's wide professional experience encompasses symphony orchestra and chamber music performances, conducting, teaching, studio recording and administration. He has served as Associate Principal Cellist of the Taipei Symphony Orchestra, Principal Cellist of the Yin-Qi Symphony Orchestra and Chorus and Principal Cellist of the Yin-Qi Chamber Orchestra in Taiwan. He has also performed with the Chinese Community Chamber Orchestra at Carnegie Hall, New York Symphony Orchestra and the Amadeus String Quartet and Piano Trio.
Mr. Chung's teaching positions include the Guang-Ren High School, Xi-Men Elementary School, Guan-Du Christian College in Taiwan and, in the United States, Music Director and cello and piano instructor at the Song of Songs Music School, Eastern School of Music and Amadeus Conservatory of Music. In 2003, he served as Director and featured cellist for the world premiere of an original Chinese-language adaptation of A Streetcar Named Desire at the Hwa-Sun Culture Center in Taipei, Taiwan.

A long-time string faculty member and this season's conductor of Youth Orchestra, CYCNY, Mr. Chung is proud to have performed with the orchestra as soloist in Elgar's Cello Concerto, at Alice Tully Hall in Lincoln Center. Since September, 2013, he was appointed as the Music Director of Youth Orchestra, CYCNY.

Mr. Chung has long believed that music has the power to transform lives, to transcend cultures and languages and to bring people together in important and lasting ways. It is for this reason that he dedicates his life toward inspiring a new generation of young musicians to pursue their dreams through the challenging and life-changing process of music education.
Keterina Jou, Violin Soloist
<![if !vml]>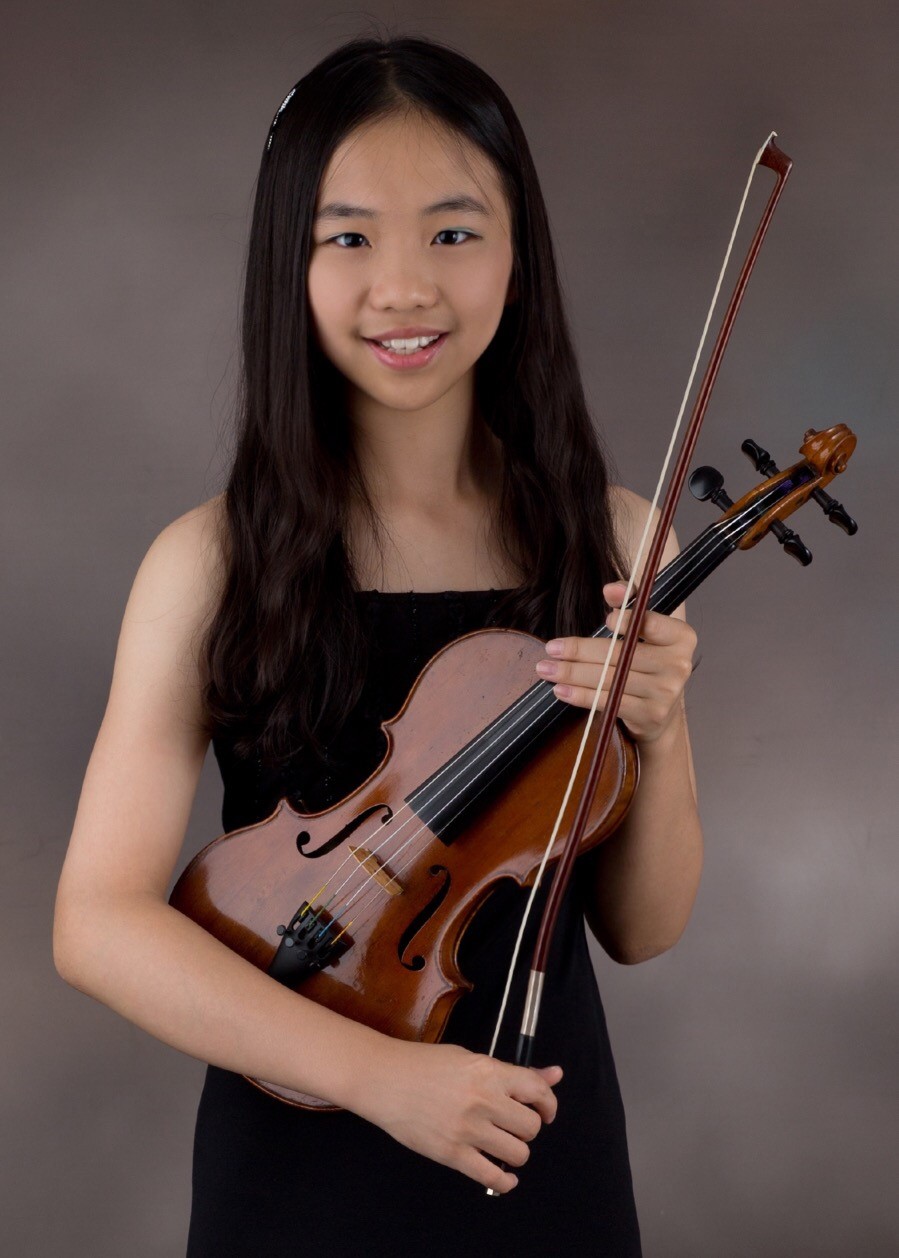 <![endif]>Katerina grew up in Queens, New York, and began studying the violin at age five. She currently studies Violin with Mr. I-Hao Lee, a Julliard pre-college faculty and founder/artistic director of Amadeus Music School. March 16 of 2014, Katerina made her Carnegie Zankel hall solo recital debut, where she was awarded the Tri-State violin certificate of excellence. June 16 of 2013, Katerina wow the audiences at the Taiwan center 27th anniversary with her "Phantom of the Opera" solo.
​
As a member of the Youth Orchestra, CYCNY since 4th grade, Katerina has performed countless concerts in Queens, Lincoln Center, Silvercrest nursing home, Poppenhusen institute, Taiwan and China. ​ She is a 10th grader at the Townsend Harris High School in Queens College, member of Arista National Honor society, Archon service honor society, Track team and Association of Chinese schools honor society.
She is passionate about music, science, math, languages, sports, singing, dancing,meeting friends and many more.
Photo: Katerina Jou, Violin Solist
#####